ICCE is excited to announce the fourth episode of Season 2 of the Circular Chat series on 18th Aug, 2021. Plastic consumption has grown at a tremendous rate over the past two decades as plastics now play an important role in all aspects of modern lifestyle. Collection and disposal of plastic waste has emerged as an important environmental challenge and its recycling is facing roadblocks due to their non-degradable nature. In collaboration with The Shakti Plastic Industries, 6 episodes shall confer about the future of plastics. Together ICCE and TSPI aspire to create knowledge on plastic waste management. The fourth episode shall focus on "Rethinking Supply Chain"
The first episode can be watched here-https://www.youtube.com/watch?v=15iJY…
The second episode can be watched here- https://www.youtube.com/watch?v=_F1WP…
The third episode can be watched here- https://www.youtube.com/watch?v=p4I_o…
Post-consumer plastic waste is recycled through Chemical, mechanical, pyrolysis, pellets, PET to Yarn. learn about different recycling techniques and their sustainability index.
Client demand, regulation, opportunity and risk are dictating the rapid evolution of ESG financial materiality. Are you moving fast enough? What does progress look like? Get the exclusive insights from industry forerunners, leading asset owners, senior regulators and influential international players.
Join the International Summit that brings the international vehicle recycling community together as it coincides with the launch of the Indian Vehicle Scrappage Scheme. Not only does this summit offer the opportunity to interact with speakers from all over the world it also offers the chance to network with others involved in the auto recycling industry
Register HERE for Day 1: 27th April
Register HERE for Day 2: 28th April
Register HERE for Day 3: 29th April

The younger generation needs to be trained on the new concept and business models around it. ICCE ensures that circular economy is recognized as a profession and people in the field have the highest skills and standards of practice. The Council is the first organization in India to launch certified courses in Circular Economy.
The key takeaways of this course would be-
Understanding economic models that emerged after industrialization and its consequences
Need for a change that can combat these consequences
Learning the Circular economy concepts of sustainability
Comparing the linear and circular economy through different strategies and business models
www.ic-ce.com
Launch of India's first book on Circular Economy. The launch would be done by Mr. Amitabh Kant, CEO, Niti Aayog on 29th Jan 2021 at 2:30 pm
www.ic-ce.com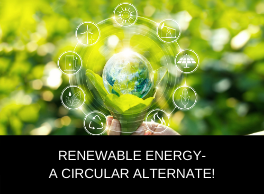 A Circular Economy does not only directs one's attention to the sustainable use of raw materials but also focuses on energy resources. In the present day scenario, renewable energies like solar, wind, and hydro are becoming reasonable alternates to fossil fuels. Acquire an understanding of the transition to the use of renewable energy leading to a circular economy and achievement of sustainable development goals.
www.ic-ce.com
A circular business model conveys how an organization redesigns its system to deliver value to its stakeholders while minimizing ecological cost. Business models play a crucial role in the transition to a circular economy. Smarter business models rethink the conventional producer-consumer-relationships and the structure of value chains. Develop an understanding of the strategic plan of the process required for the business models to increase the reuse potential and recyclability of products through refusing, rethinking and reducing.
www.ic-ce.com
MRFs are materials reclamation or multi re-use facilities. Understand the overall strategy in the management and operations of plastic waste for material and energy recovery from waste and less landfilling.
www.ic-ce.com
The product after its useful life is generally disposed off. It ends up in landfills. Here comes the need to evolve some activities which can regulate pollution, avoid landfilling or incineration and save our natural resources. Part 2 of "Extending Product Lifespan" focusses on the lifespan elongation through refurbishing, remanufacturing and repurposing.