www.ic-ce.com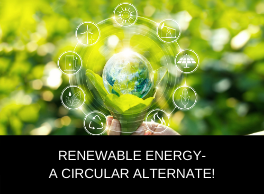 A Circular Economy does not only directs one's attention to the sustainable use of raw materials but also focuses on energy resources. In the present day scenario, renewable energies like solar, wind, and hydro are becoming reasonable alternates to fossil fuels. Acquire an understanding of the transition to the use of renewable energy leading to a circular economy and achievement of sustainable development goals.
www.ic-ce.com
A circular business model conveys how an organization redesigns its system to deliver value to its stakeholders while minimizing ecological cost. Business models play a crucial role in the transition to a circular economy. Smarter business models rethink the conventional producer-consumer-relationships and the structure of value chains. Develop an understanding of the strategic plan of the process required for the business models to increase the reuse potential and recyclability of products through refusing, rethinking and reducing.
www.ic-ce.com
MRFs are materials reclamation or multi re-use facilities. Understand the overall strategy in the management and operations of plastic waste for material and energy recovery from waste and less landfilling.
www.ic-ce.com
The product after its useful life is generally disposed off. It ends up in landfills. Here comes the need to evolve some activities which can regulate pollution, avoid landfilling or incineration and save our natural resources. Part 2 of "Extending Product Lifespan" focusses on the lifespan elongation through refurbishing, remanufacturing and repurposing.
www.ic-ce.com
Constantly evolving technology and changing consumer tastes, reflect that today's companies are better than ever at developing new products. Understanding the various stages through which products typically pass is the key to ensuring the product's longevity.
www.ic-ce.com
Chemical recycling techniques could change the make-up of our garments in the coming decade, experts say. How are companies kick-starting a green revolution from old clothes usage.
www.ic-ce.com
How can we leverage technology to make #CircularEconomy based packaging a reality! Some best practices from the industry to understand the innovation in the Packaging industry.
www.ic-ce.com
India, EU adopted a joint declaration on moving towards a more Circular Economic model. Tune in to know more about EU regulations, plastic tax, possible collaborations and synergies in the future.
Circular Economy Club
One of the challenges in implementing the circular economy framework is understanding what circularity means in practice, what is already working and what is not. The Mapping Week helps solve this challenge by gathering as many circular initiatives as possible in an open online directory. This event is held in +60 cities worldwide during de week Feb 5-11.
Agenda to learn from leading companies in the Circular Economy field. This an opportunity to interact with government actors who are facilitating and encouraging this transition and to participate in a Circular workshop with Natural Step and its Circular Economy Lab team.